---
270605 1744GMT
eskimo friends
the Damien Rice gig review. it's f*cking long. and packed with useless information. check it out [click]
tracks of the week :-
Damien Rice - Unplayed Piano [for the Free Aung San Suu Kyi Campaign]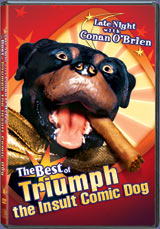 Eminem - Ass like that feat- Triumph the Insult Dog
---
240605 0219GMT
Mr and Mrs Principal
this really is the last summer of my youth. the winds of change have been blowing all year, and slowly, one by one, it's happening. you really know you're old when your friends start getting married...
but i really shouldn't be bleak, because i want to be the first on the w.w.web to congratulate the couple and announce their wedding this July!
Jacq,
You really caught me by surprise and I hope you get all the happiness you deserve. You know I would be there (uninvited even and possibly with a guitar in hand too) to watch you in white and give you a long postponed hug before you give yourself away to some lucky guy, but i'll still be stuck in sweltering London.
God bless you and Simon, we'll meet up when you get your married bum back to the UK ;)
So many questions to ask:
what will she sing?
how will she look?
will she still blog?
which friends of ours will be there?
who's next???
---
210605 0508GMT
"and so it is..." -d.r.
that tonight with 22 quid in my pocket and more determination and perseverance than you could shake a stick at, i am crossing yet another name off my list of gigs i have to attend before i die.
ThisGuy found himself at the Palladium, London in an inaugural seated concert featuring Damien Rice as a solo act. watch out for a full review and shameless bragging, soon to come.
"don't throw yourself like that... in front of me" -d.r.
with great pride, i'd like to introduce to you,
---
200605 0129GMT
ThisGirl's21st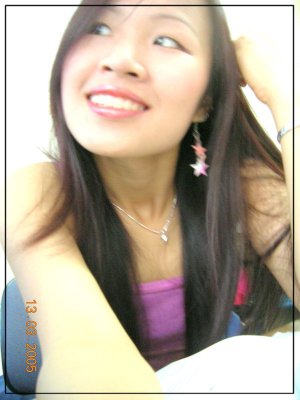 it's hard to believe that when we met she was only 16 (going on 17). i could've sworn when i met her, i thought she couldn't get any more beautiful than she already was. i guess i was wrong.
dearest kat, 4 years and 3 birthday kisses later, you've grown so much stronger, wiser and graceful too. happy 21st birthday. you know that my heart is with you today. make a good wish and blow your candles, i'll see you soon.
love, j
nothing in life that's worth having, is easy
i've had a relatively easy life, but i'd like to think that i've also taken the hard road a couple of times, when i could easily have just settled. i've fought for having my cake and eating it, while rolling with the sacrifices that came along with the choices i made. never complained. whined a little, but never regretted.
but when do you draw the line?
how do you know when you're fighting a fight worth winning? how do you know when it's just pride talking? how much is too much when it comes to letting go or taking risks?
edit : hours after typing this, i came across a transcript of a speech by steve jobs. [linked from acidtripping] doesnt answer my questions, but reaffirms what i need to know before figuring out my answer.
180605 backposted
"the sweet fuck-all" -d.g. white
out did myself. woke up at 5pm. went to Passfield, where i spent the most memorable year at uni halls of residence, for their summer party thing. too late for the bouncy castle and open bar, but somehow managed to get my one main meal of the day and drank the night away. poker and guitar playing till 4.30am. some bitch stole my tube of pringles (tm). she just came up to our table and talked to us and walked off with it as if she deserved it. skank! don't steal my sour cream and onion pringles. ever. dont steal anything of mine that has onions in it. ever.
anyway. it was 4.30 in the morning when we decide to jump the park fence and play frisbee till 6am since it's already bright. ck-the-mole didnt bring my camera, so no nice pics. it wasn't pussy-fied frisbee throwing like on the beach either. this was ultimate frisbee, with solid catches and extreme jumps yo. back home by 7am, bathe and crash for a couple of hours. wake up, call home for father's day, lunch, spend money online for graduation stuff then back to bed for a sunday afternoon nap. yes. this is it. sweltering summer is here, welcome to the sweet fuck-all.
---
170605 1728GMT
laze the daze
woke up at 3 again, scrambled eggs and toast for breakfast and went up to the roof with friends to jam. leon taught me a song that's apparently useful for pulling christian girls. i think it was called "over the mountain".
so there we were, topless in the afternoon sun, up on the roof in the middle of the city, skipping pebbles (there're pebbles on the roof) and summer lazing. precious times.
i actually have a whole list of stuff to get done :-
*banking stuff
*travel stuff - read up, book, plan plan
*parttime job apps (this one i've done, but still no calls)
*fulltime job apps -which i've put off for too long
*clean up my flat before parents come - major laundry load, vacuum etc.
*kat's 21st birthday present - this is extra tricky
*plan cardiff/u2 trip
i like standing still. why is everything around me moving so fast?
and because you know over here, in thisguy'splace, we only serve the best, enjoy this link, (courtesy of grabulasa -"i grab your ass ah!" ariff) :-
rachel stevens' soft and caring side. bless her for her concern.
[warning : not suitable if your heart is attached to a pacemaker]
here's a look at my summer schedule. i decided to make this since it'll help me remember stuff and help you keep track of where i am / what i'm doing this summer. [click]
---
150605 0327GMT
unidle
last night's movie marathon continued in the "morning" (1pm) with a stretch of star wars 3 and sin city at one sitting before rushing off for pam's farewell.
back home and it's another night of movies, late night tv and self indulgence. big brother is keeping me company. have no idea what's going on, but the sound of banter is comforting as i edit pics and tweak things around this blog.
big news- thisguy'splace will no longer have annoying adverts! Howard from the unidleproject.com community/domain offered to host thisguy'splace and the rest is history [special thanks to peek ].
still considering purchasing a domain name for good. but not this summer. this summer, most of my liquid assets has been converted to either paper-[booking confirmations for gigs, buses, plane tickets, train tickets, accomodation bookings etc.] or liver fertilizer.
the new url is ***: http://thisguysplace.unidleproject.com ***
here's a log of the past few days in pictures :-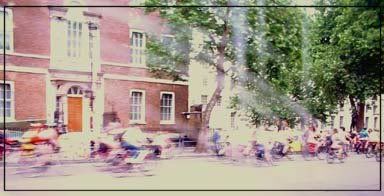 nude cyclists demonstrating against oil fuel dependency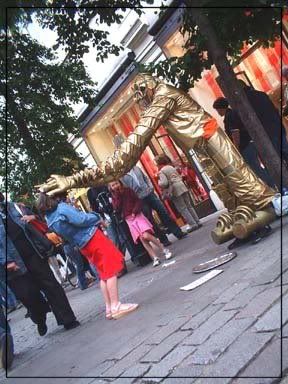 covent garden creatures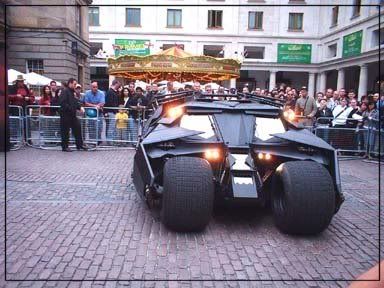 the new batmobile / bat-tumbler - roars like thunder!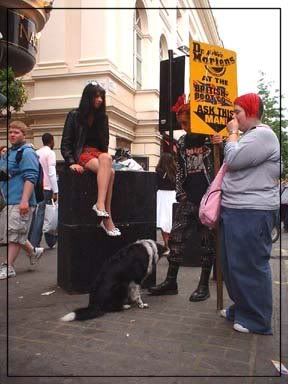 covent garden creatures part 2

great dover street gangbang

Apple nerds at a lecture at the regent st. Apple store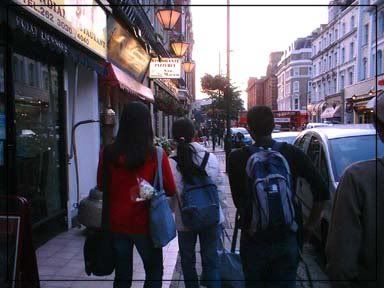 a long way from the djnet room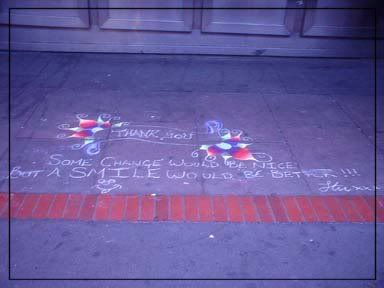 street art
when the sun goes down in the city, it's always still bright
we wandered around the abandoned multinational company offices, wanderlusting in the yuppy natural habitat
conversation and photographs in the soulless, beautiful playground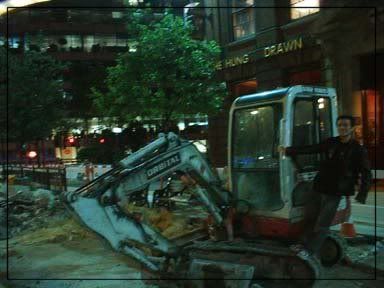 for real dawg.
house party tomorrow and open bar at the expense of my department are on thursday. time to take my liver swimming.
---
140605 0547GMT
mr pang's oyster
since it was the last day of bigj's bus pass to be valid, i made full use of it. although i only woke up at 3pm, i managed to cover greatdoverstreet, picadilly circus, edgwareroad, russellsquare, gray'sinn, holborn and st.katharine'sdock all by 12am. running various errands and just taking in london.
tonnes of pics that i'm itchy to begin editting. but back to my movie marathon of sepet, 2046 and now the terminal man. ah. envy me.
and soon, thisguysplace might be getting a new host. more on that later.
---
120605 0617GMT
18 seconds before sunrise
spent the past two days with friends, carlings, decent non-take-away-food and conversation. went to covent garden to see the new Bat Mobile (the Tumbler) and a whole array of summer skirts. i swear i saw a woman sporting fake nipples under her top (ala Sex and the City). i mean, they were HARD, solid looking and it wasn't that cold.
there was some nudist bicycle parade at trafalgar square today. tried to take pics, but the bus we were in was headed in the opposite direction too fast. there were some pretty fit women on bicycles too, not just your typical saggy, wrinkled nudists. also apparently, some bomber jets circled low over central london, more filming stunts for v for vendetta.
life keeps getting better? maybe. gotta get alot done this week. hotel searches, job sniffing and budget managing. building up the repertoire and balls to do that busking thing i fantasised about.
stayed up late to call the parental units and my godparents. spoke for ages, then vegetated in front of the tv, and before you know it, it's 6am and you've spent too long working on stupid things like this : linklist
Thisguy'splace June Short-Shortlist
Music - James Blunt : You're beautiful
Movie - The Mighty Tykes : A.Abraham's 11 minute kidfest
Event - Live8, Hyde Park July 2nd
oh, and London friends, M&S's selling ready-to-use bbq grills for 3 quid!
thisguy gets close(r) to Ms. Portman

then and now
since this seems to have generated interest, i'll elaborate more about how i stalked the lovely ms. portman.
on the way back from getting take-away bento (our staple diet for most of the exam period) i pass by the set of V for Vendetta, which happens to be right next to the library (for 2 hours or so) and i initially thought it was just some bbc or itv filming going on.
talked to the crew and they said no stars were around, blatant liers! coz 10 seconds after he said that, i spot the very shaven natalie portman standing 10 meters away from me. although it's spossed to be a futuristic film, she was dressed normally. her "scene" involved her walking up and down the street about a dozen or so times. (which surely took alot of talent)
ran up to get my camera and stalker materials. then as they were wrapping up, i got close enough to ask for a signature for my mate kumar (who worships her more than anyone i know). i had run the scene in my head before approaching her, i'd ask her for an autograph, a picture with her in my arms, her phone number, if she'd need anyone to show her around london etc. was disappointed that she only fulfilled one of those requests. she wasn't as friendly as i hoped she'd be. i was dressed nicely that day too :(
PLUS, she's on that list of celebrities i could go out with and kat has to be cool with it (edit: apparently, this is not so...)
but on a good note, i didn't get beat up by her body guard, i was the only one who got to talk to her, she's shorter than me (!!!) and her presence was heavenly. i mean she looked like she could pass off as any other uni student, but that face, her eyes, just commanded attention. i'm not the only one who thinks so - portman shrines
if you want copies of the (poor quality) pics i took, leave your details here. if you want a copy of that signature, sorry dude, you gotta go through my brother kumar.
---
100605 1235GMT
burgers in the oven!
woke up at 9am since the bitch (if he looks a little stunned in that pic, it's prolly coz i mooned him after my bath) was at my door, burgers are in the oven and i have to cook him mah special burgerswhile he watches daytime tv comedies.
we've got no plans, just take advantage of the day. exams and a whole chapter of my life is over, god knows what the next chapter's gonna be. stay tuned here and welcome back to thisguy'splace!
i still have stories to tell, like how i talked to natalie portman two days ago (they were filming right next to the library) and ... wait. i forget. burgers' in the oven, so this post ends here.
oh and i found a wireless network in my flat! woohoo! hope whoever in my area who got it won't block this open network.
out.
---