---
Damien Rice, live in Palladium, London

damien rice. he's pretty one of a kind. his contract with his record company (or technically, his distributor, since he's signed under his own independant label, which has a deal with a major label) allows him to play whenever he wants and release and record albums whenever he wants. in his own words "i'm not obliged to make another album or do another gig if i don't want to".

from an artist who started off spreading via word-of-mouth by playing gig after gig (the earliest solo gig i've heard of was in 2001- wayyy before the OC and the film Closer helped make him a household name amongst (serious) music buffs around the world), he's either hella lucky or hella talented, or arguably, both.

seeing that i might not be around in Europe much longer and on a whim, damien rice could, at any minute, disappear into obscurity, i really HAD to catch his Aung San Su Kyi 60th birthday gig at the Palladium, London, even though it was only him solo, (sans Lisa Hannigan, Vivian Long and the rest of the band) and even though it was a sold out gig, 1 hour after tickets were released.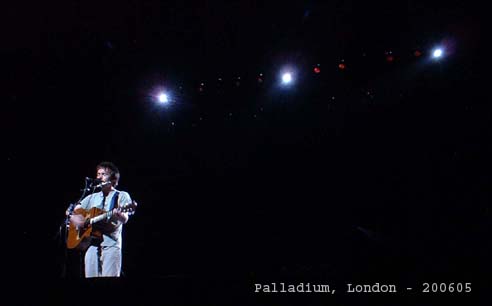 it was basically a charity concert to raise funds and awareness for the Free Aung San Su Kyi (ASSK) campaign. for more info on the Burmese people's struggle and ASSK, read here [http://www.burmacampaign.org.uk/ ].

it's an open secret that (almost) every gig never actually "Sells out" since a number of seats is usually always blocked for guests of the band/crew. and before (almost) every gig, these tickets are never fully used and are released hours before the gig. (a veteran gig organiser told me this) so i went to the palladium fairly early, 5pm (the gig started at 7.30 or so said the ticket anyway) but the guy behind the counter tells me that no tickets were expected to be released. so i hang around the back entrance to try to speak to the crew and ask for extra tickets. no luck. but i unknowingly manage to talk to kate earl and her minder, who tell me that tickets should be released.

6.30pm and the crowd outside the theatre grows and there's a line to grab returned tickets. at least 30 other people are without tickets but still intend to wait for releases. i find my way to the front of the queue (i didnt know it was a queue since i was hanging round the back of the theatre) and hang out with a girl from Stockholm and a guy from Paris who're both hardcore about the gig too, even though the guy has tickets for the Paris gig 10 days later.

funnily enough, touts, always-always present at good gigs, are no where to be seen. maybe because this is a charity gig or maybe because they somehow didnt manage to get tickets either, i'm not sure. but some ticket holders are selling loose tickets for 70 pounds to us. (original price is 25 quid plus booking fee) we decline and grow worried. it's half an hour to show time and still no tickets. suddenly, two older-age-ladies (at LEAST 45 - 50 years old) come up and ask if i'm interested in a ticket. i expect to be fleeced, but right off the bat, all they're asking for is 25 quid. i grab it. only one ticket. the girl from stockholm looks on enviously. the paris guy (whose name is, ironically- roman) managed to get his ticket a couple of minutes prior to this from some guy for 40 quid.

jammy git luck, i've got a ticket! roman and i go out and join the horde. i've never seen a french person so animated (except, of course that french cook in the little mermaid, who was, in fact, animated). (i digress, you can tell this is going to be a long review, but if i don't tell you about the struggle to get into this gig, you won't feel the exhilaration i felt)

the crowd is not your usual rock and roll crowd. they're a pretty sober, but mixed up lot. damien rice sure has a diverse following. i spot two taiwanese uni mates in the queue, more than a handful of scantily (but tastefully) dressed ladies, senior citizens, emo-kohl infused goth kids and many many couples. seeing the venue was a pretty posh theatre with seats, this gig was actually a pretty good "date gig".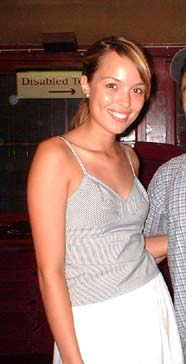 did i mention the seats i managed to get was on the ground floor smack 15 metres away from the stage? way better than roman's ticket (which he paid almost twice what i paid) on the first floor.
kate earl, the opening act, is pretty good. she's charming and nervous and sweet and her music is almost like what a teenage Jewel on a piano would sound like. alaskan born and beautiful in a skirt, the crowd loved her songs but the theatre only really got full after the interval when damien rice came onstage.

he went straight into - the blower's daughter part 2. excellent, i'd seen a fair amount of his live videos and knew what to expect, but seeing him play solo, right in front of you is awesome. he's got his performance fine tuned so well.
a veteran street busker, he knows how to make his songs really come out alive onstage. he also made really good use of the pedals and two microphones (one with a distinct old-style-radio effect) and the acoustics of the theatre. at one point, he even just knelt down in front of the stage (without microphones), unplugs his guitar and plays "Older Chests" using only the theatre's natural acoustics as amplification.

the older aged ladies sitting next to me (the ones who sold me the ticket) were singing along shyly. in between songs, damien rice would tell stories about his lyrics (i really love it when songwriters do that- almost worth the price of the ticket alone) and took "requests" from the audience. someone asked where lisa hannigan was, (someone always does at every gig, apparently) and damien says "i don't know... but i think the ticket says somewhere - 'solo'". not quite a good joke, but the audience laps up everything he says.

highlights of the gig were the sneak peaks he gave of new tracks - the blower's daughter part 2 (which i had heard before, from bootleg recordings of his previous gigs) a fully piano song and one you can find online called "Childish". if these make it to his next album, i think it's going to be better than "O" even. he didn't play any covers in this gig, but he did "Lonely Soldier" which he rarely does live.

his solo version of "i remember" really blew me away, with his flawless use of live looping (he uses pedals to record loops and plays to the loops and records himself playing to the loops etc. creating layers and layers that keep making the song grow and build up to fucking orgasmic climaxes).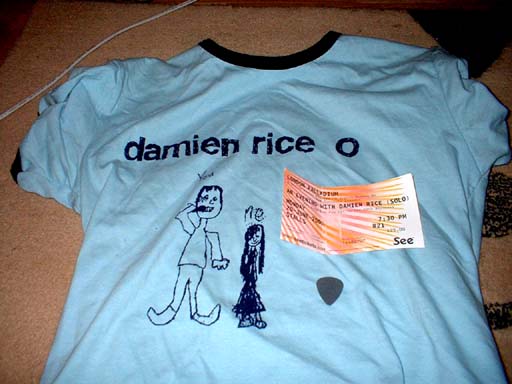 the gig "ends" with a slide show on the ASSK struggle and his newest single (done specifically for the ASSK charity album) "unplayed piano" playing in the background. the gig is apparently running over time and he does only one encore (cold water) to wrap it up, does his trademark loop thing and leaves his guitar onstage as he walks off.

i manage to get a plectrum from a roadie, although it's just a standard ernie ball plectrum, it's going to my collection of celebrity plecs.

after buying a t-shirt, i go meet up with an estatic roman and sophie the stockholm girl who managed to get a ticket. after getting their email addresses to send pictures to them, i go look at the back entrance of the theatre to find a small bunch of hardcores waiting for damien to come out. they're pretty normal and laidback fans except for one psycho girl who's REALLY desperate to meet him. she's scary, i try to avoid her. we wait and the security dudes eyeball us, but since it's a monday night and i've got nothing else to do, i keep waiting. apparently, a scheduled aftershow party (where the band/crew usually hangs out by the bar with selected fans) is cancelled since the show ran overtime.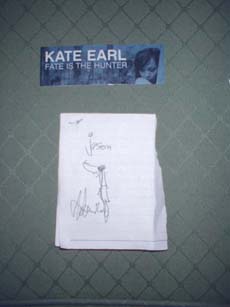 while waiting, i learn a couple of things. damien rice's manager looks like a witch and apparently people call her "Ben". security dudes are sleazy but also scared of psycho girl. eventually, after the crew finishes packing up the place, finally, damien rice comes out. hangs out with the crowd and asks us if we liked the gig. it's the first gig he's done in months and he thinks it was crap. most of us thought he was on fire. he signs stuff and takes pictures. i give him a copy of Pete Teo's cd (which i happened to have on me) and ask him to come to Malaysia, telling him he's got TONNES of fans there (true or not, i'm not sure). psycho girl gives him a stuffed elephant but otherwise behaves normally, from her babbling earlier, i'd have thought she'd be molesting him by now.

while damien takes his time with the rest, i chat to the gorgeous kate earl who recognises me from earlier that day and tells me she's got filipino blood and goes back to the philipines often. she looks like a less bimboish, blonder mandy moore. she's in the cab waiting for damien rice (the rest of the crew left) and invites me inside. i feel weird, it's as if i'm stealing time with damien rice's chick. the security fella guarding them looks in and kate tells him "it's cool, i invited him in". anyway, i won't go into detail about what went on in that cab, but kate's hot! - check out her website -www.kateearl.com and her blog.

damien finishes up and i get out of the cab and they go off to a party with Kings of Leon. i float off back home.

so yeah, gig was awesome, meeting him was awesome, the tshirt i got is really nice as well AND if he does ever come down to Malaysia, you know who helped set it up - :)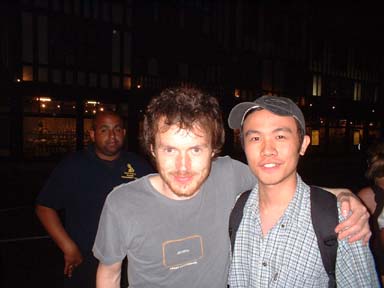 Here's the complete setlist and commentary, taken from the EskimoFriends.com forum :-
Blowers Daughter 2
Woman like a Man
Amie -> Child Man Silly Dog
Accidental Babies - Never heard this song as Damo tried to stop it from being shared. Sounded great and I think the most interesting thing was the fact Damo played it on the piano. I remember him saying that Piano was not quite his instrument but he was learning it from Vyv. His piano playing though was fairly basic and in my own opinion i think he is suited better to the guitar. None the less it was a fantastic song; cleverly written.
Volcano - As usual a nice long jam to this one with lots of cool looping
Older Chests - This was done acoustically with out a microphone at the front of the stage, again a great feeling to hear him just on his own. I was sitting at the front and therefore could hear him really well. That highlighted the intimacy of the show.
Prague
Lonely Soldier - This was requested by a man in the audience
The Professor Again requested by the audience : by 2 girls sitting up in the circles who intially asked for lisa but Damo reminded them that the ticket stated "Damien Rice - SOlO" - Was pretty funny! Though not the first time he has said that to someone.
Childish
The Blowers Daughter
A new song????? - I'm completely unsure what this was. In all my knowledge of Damo gigs, i had no idea what this song was. It was up beat and sounded on a par with a song like "Sand" - A great song
Eskimo
I remember - This was quite funny as Damo forgot the words halfway through and prior to that told us a great story about a girl he thought had fallen for him. Fantastic stuff!

Damo then went off stage and a video came on about Burma with Unplayed Piano being heard over the top.

Damo came back on and did a shortish version of Cold Water. He ended the show fantastically by looping a certain section of the song and leaving his guitar in that famous Damo guitar position (on its side) and said goodbye and walked off.