---
280604 1145GMT/1845KLT
Quickie
first up, i'm hereby proudly plugging the launch of my ally and friend, luqzan's new blogsite- http://grabulasa.blog-city.com
next, thanks huiyi, kq, ck, leon, leow, lisa, peinee, choihar, yt & karen for the card and gift (?). drop a comment here to update me on your lifela.
also- kat and i've got a new puppy! Joel's a 2 month old shih tzu who looks exactly like Joey- the faithful pooch who got kidnapped last year. expect oodles of pix soon.
happenings -
sunday - met up at the usual watering hole mamak with the dudes on the night of hairy's arrival. took joey for nail clipping and manicure. played with kat's kid cousins and showcased my astonishing mandarin and cantonese. chilled out at night with family watching monster and that korean version remake of dangerous liasons.
saturday - cancelled plans to watch disagree et all @ sunway and also cancelled starlight cinema plans. went for banana leaf and finally got some kick-ass ketam shell thingy that's getting harder and harder to find these days. christened the new pooch Joel and spent the rest of the day getting him to bark and stuff. night found me dining, suppering and bowling with family and kid cousins.
friday - co-organised a smashing and filling (but stressed) birthday bbq for kat with her friends. got her grandpa drunk with my wicked lychee screwball mix. wanyew and miscellaneous member's of kat's extended family also got pissed. sadly, i ended the night sober coz i was "working it" trying to keep up a good impression on the relatives. sigh.
how is everyone ?
---
240604 2007GMT/0307KLT
10,001 things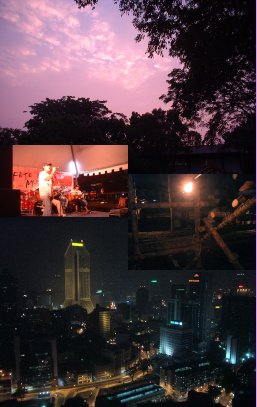 hectic.
i'm sitting here trying to sort out my thoughts and review all that's been going on over the last week or so. lots of pictures taken, places visited, things done and miles driven. there were the visits to kat's university, freelance work and interviews, brats hospital visit, late night jam sessions cum football following, then came the insane camp weekend, sitting around under the stars, pulling up legs of wood from the ground at 4am, driving half asleep to sunway for glolites, camp food, catching the sun rise for the first time since god knows when, wandering the city with a guitar strapped to my back for the french music festival thingy, bae's kl penthouse, supper sessions etc.
since i started blogging, i've begun to have this paranoia that if i don't record something down, it'll be forever forgotten in the depths of time. its impossible to record all the details, so i try to just at least write down skimpy pieces of info, like the messy list above and hope it jumpstarts memories later on in the future when i read through this stuff again.
yesterday night was nice. it was a relaxing supper with my kitten and we just sat for a couple of hours in this uber-comfortable petrol/service station observing the people coming and going, relishing each other's company and simply spending good together-time over a cup of milo and snacks.
"maybe we once were monkeys in the same tree,
living on fruits and love, you and me,
all day long, swinging and grooming each other,
all night long, cuddling, whispering and sleeping together."
my sister and ecuadorian dude have arrived, hairy will be down soon too and more activities are to come. sweet summer fleets by. don't wake me up just yet.
---
120604 2000GMT/0300KLT
i think i'll drift away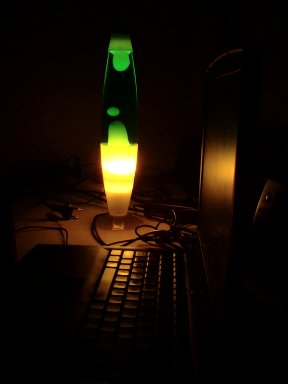 it's 3am and i'm not sleeping. i can't. why ? cause i'm watching my lava lamp. hypnotic does not even begin to describe it. add in the damndirtyapes EP and a full day's worth of thoughts to reflect on and you begin to experience what seems like spiritual masturbation.
its been almost a week since touching down and i've settled back in a sinfully comfortable routine. i've reminded myself of what it feels like to be a consumer again. spending like a twat, driving, kitten-isms, YABDRamli etc. all make me one pleased mother f*cker.
sure there are concerns and issues to take care of but the people to meet and things to do lists fill up my time plenty.
had a classic friday night out in the valley. after a movie in the evening (it was Shrek 2 if you must know-) we headed down for banana leaf, shishas and drinks in a comfy red hued chamber with many many pillows. drove home after dropping her off with nakedbreed's -tribute blasting.
thursday's gathering was a blast. canned peeled mandarins, absolut, oj and indian drinking buddies (whiny ones though) plus impromptu jam sessions courtesy of the clan Stewart pretty much summed up the highlights of the night. after the night of snacks, drinks and shirtless aforementioned whiny, Borat-quoting indians, we were off for breakfast at djmamak before going home for a much needed bath. (i've rediscovered the joys of bathing again).
this doesnt feel like a holiday. it's a lot more than that. it's home.
pictures- on the way.
---
090604 2048GMT/03463KLT
the drama
was watching the day after tomorrow (or as they call it here- lusa lol) and i realised i liked disaster movies and such. Godzilla was rubbish, but i liked ID4 -back then as an xphile i liked anything green and bug eyed.
anyway, it got me to thinking- why do we constantly seek to witness drama, devastation and conflict ? why does it amuse us so when in my 21 years of life i've loathed participating in conflicts and drama. i've seen my fair share. seen more on the new channels and still - is it not enough ?
more randomness-
*those kids in malaysian malls with their roller shoes should all be clotheshangered- (if you don't know what that means- ask me for a demo - or watch owen wilson do it in shanghai knights)
*did anyone actually see the venus eclipse thing ?
*i've got a flu and a nose that wont stop running. run out of tissues- don't ask how i cope with that.
*how is everyone ? answerla ?
---
090604 1913GMT/00213KLT
and God said - let there be lava
am sitting in the glow of my coolest birthday gift (so far *coff*) freeze framing the moment. another sweet day. this time with friends, light jamming and warung food. tomorrow will be going to use the wireless at a coffee place my friend works to upload this stuff. my dialup is kinda slow and uncomfortable.
not in the mood to update any of the review or noted sections. i intend to take more pictures soon.
today we were talking about hope and agreed that home is abundant with hope. hope of better things to come etc. not to say life in london is hopeless, but it lacks the sense of development that we have here. the sense of creation and how everyone is expected to be a part of something.
i'm finding it really nice to be around my family more. its nice to take care of my folks and letting them take care of stuff too. then there's all the plans kat and i have for the summer. i'm pretty happy with just about anything as long as she's an arm's reach away (or less).
today we shall be thankful for :
*friends who work in coffee places
*hope
*love at arms' length
*plans
*lava lamps
*stupid friends
*family
*YangBerbahagiaTuanRamliBinUrger
---
070604 0553GMT/0110KLT
todo oh what a todo
the check list of things to do keeps growing. i'm ticking em off one by one tho. priorities like paying homage to Yang Amat Berhormat Encik Ramli Bin Burger, etc have been taken care of. i lubed and teased Donna with a little finger action last night. got my radio new batteries. taken a brief stroll around the new utama.
gotta get those applications off soon too.
how is everyone ? new visitors - pay a visit to your place and do your thang.
end of the hiatus
sweet summer comes like a monsoon of honey nectar. i'm sitting here in my living room topless watching fear factor and any other damn thing i feel like putting on.
the plane ride home was just tiring and no artsy fartsy pictures this time. but i did get an excellent aerial view of london's night lights. the swirling highway lights, flowing car lights - just a whole landscape of lights i left behind.
it felt like running away. as quick as i could. and as much as i don't like the resigning nature of escapism, it felt almost perfect.
i spent my 21st birthday with family, kat, close relatives and my godparents. its been a preciously warm fuzzy past 48 hours. right here, right now, as she said, life is good.
friends making their way home, have safe flights. in case anyone's wondering, festivities are on throughout the week. i've got a couple of bottles that i'd like to see the bottom of soon and limited chocs supplies. i've got a new mobile number - check friendster bulletin board for details.
---