---
July 2005
250705 1150GMT
streaking is when you run, flashing is when you don't
whoa, it's been non-stop movement since the 15th when kat arrived. graduation was a blast and i really liked sitting through the whole thing although i was melting inside the gown, and not just because i was graduating, but being with friends, the solemn atmosphere, the sheer profoundness that comes in wearing a silly hat and dress- brings about a deluge of emotion.
the paris-pisa-rome-venice trip was amazing and indescribably hectic too we managed to see all we wanted to see and experience/do what we planned. after all the rushing about, apparently, i slept at nights with my eyes not shut properly, which must've been scary for the poor thing sleeping next to me.
note that at the same time, my parents were in spain, my sister had just gotten back from prague, david was just back from singapore etc. a LOT of travelling for this little family of 4+2. even more insane was the bombings, shootings, travel chaos and weird weather. it's 15 degrees in London in the middle of summer, although a week ago it was a scorching 30 degrees.
so much to write about and so many pictures to show. i'm wondering if this little blog can manage. as expected, when things are moving this fast, there's hardly time for updates and interest either. i'm getting tired of my blog layout. kat's PDA doesn't load this site properly (due to my sad html skills) and i'm slowly losing interest in the blog scene. maybe it's got something to do with the fact that my friends seem to be blogging less as well.
in any case, i'll still be around, the unidleproject domain seems to be frozen in time, but keep checking back at this tripod site. so much is going on at the same time, career decisions, entertaining kittens, keeping track of displaced friends etc. if you're reading this, take care and be good.
just in case you were wondering, the title for this entry has nothing to do with anything at all.
---
110705 1443GMT
our house
parents have landed and made themselves at home in our little flat. whenever they're overseas, they seem to act like kids. between games of drinking scrabble, chick watching and shopping, i realise that there's still so much to talk to my parents about. despite having spent almost my whole life with them, it's as if, there's so much more to know about my parents. i never seem to get bored with the stories about their lives and lessons they've learnt.
we're a family again, except for my second sister who's stuck in the States.
my "free" wireless internet seems to have been cancelled so expect slightly fewer updates and online activity. refer to the summer05 plan for details of where i am.
here's hoping this week treats me well. good luck to the rest of you too.
oh and if you're interested, here's that star article charlotte mentioned
[click]
---
080705 1023GMT
London : The Aftermath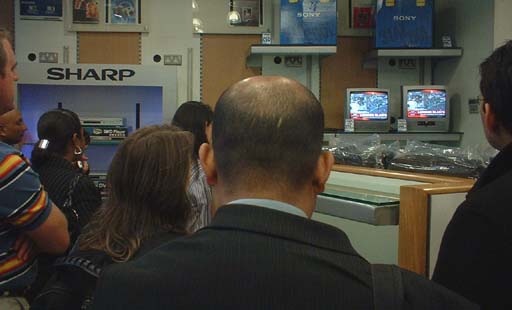 the first reaction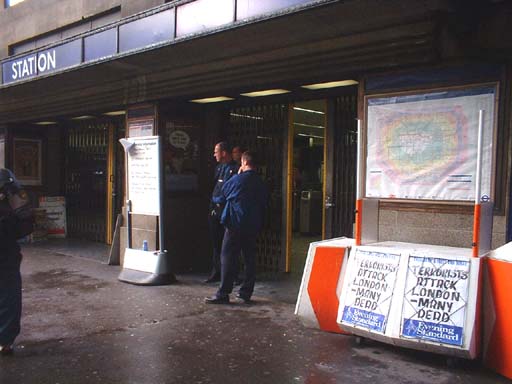 later in the evening
despite my crashed harddrive, i managed to blog about the bombings via the comment function in this blog. (it's not showing the correct number of comments, for some reason) this was my account of it. was quite shocking since at first the number of explosions was greatly exaggerated.
***
it's 11.12 am, thursday morning 7 July. explosions in central london reported on the news everywhere, around 10am. Sky news being the first with updates.

affected places so far are Russell Square (Tavistock square!) where a bus was blown up.

many more (as yet, no confirmation whether related or not) explosions heard in the underground tube network. the underground is now closed while rescuers salvage for survivors.

general confusion, but no panic. cabinet ministers have issued statement but do not report fatalities yet. eye witness reports say many bloody and injured. nothing conclusive about fatalities.
thisguy | Homepage | 07.07.05 - 11:20 am | #
---
info above was obtained from television news reports. i wandered outside of the LSE and walked to a shop with televisions on the display windows. many people were crowded around it, trying to sift for information.

everything is well organised, police and medical services already working like clockwork. sirens all around and choppers in the sky.

stay tuned for more updates.

not going to make inferences, but today IS the G8 summit.
thisguy | Homepage | 07.07.05 - 11:23 am | #
---
for more good updates, goto http://www.londonist.com

nothing further to add, so far me and my sister are ok and have texted my parents. mobile lines are now shut.

londoners reading this, stay home and follow the news.
now we'll just wait and see how the british public reacts to this. will they go the Spain route and vote for more conservative changes? go ahead with introducing a police state and identity cards? or will they keep their stand for human rights and liberties? so far Londoners are keeping stoic and aren't cowed by fear or panic. whether Greater Britain behaves the same is another question all together.
how to help
if you want to help and don't know how, try donating blood, please call this number - 0845 7711711 (uk residents only)
am not sure how many people have realised that the unidleproject domain is frozen in time. for updates, please keep stopping by here at the tripod domain until further notice. sorry for the unnecessary confusion.
I'm pretty behind on updates. I still haven't posted up the pictures from Live 8 and the London Gay PRIDE day. Parents arrive today. have to take the tube to pick them up. it's gonna be scary and i hope i'm not alone down there.
---
050705 0308GMT
hello, HELLO - HOLA!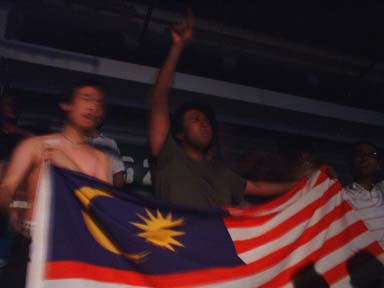 U2 gig review and pictures up : - can we please go Vertigo?
the Live 8 gig was a blast. i managed to get a ticket! so yet another exclusive write up coming soon.
what did you do for Live 8? did ANYONE put their name on the list? submit their photo? or were you all just in it for the music?
been doing major cleaning up before parents come over. quite enjoyable actually, when you have the right liquids to use and the extra know-how like using newspaper to make glass surfaces shine. i've amassed a HUGE collection of Economists, FHM and random magazines. Anyone interested? drop me a line somewhere and it's all yours. i've also got *clean* clothes and text books to give away/sell.
the UnidleProject server is still not accessible, so I'm back to Tripod's shitty ad-filled domain. i'm not sure if you've read the message i left on the tag board and managed to find your way here, if you did, could you please write a comment in the speak thing so i know you're reading this?
---
010705 1613GMT
live8 : our generation's love letter to the world
upload your photo for live8. that's right, the people behind live 8 are building a huge picture petition for the demonstrations in Edinburgh to urge the G8 summit to commit to crucial resolutions to end world poverty once and for all. read more about how to help here :- upload your photo and help make a difference.
[from the live 8 website]
The G8 Gallery
As part of The Long Walk To Justice a huge photo-campaign - The G8 Gallery - will see hundreds of thousands of pictures posted along two miles of railings in Princes Street, Edinburgh. This visual statement will show that you and millions like you, want our leaders to use the power they have to end poverty - for good.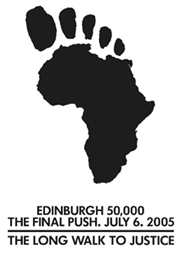 countdown to live 8 in hyde park : 21 hours
020705 1400-2130 BST
also, sign the live 8 list
[here]
if you're not sure why all this is happening, click here for a quick guide on live 8, the G8 summit and poverty in Africa
---