---
290704 1649GMT/2349KLT
back to good ?
when will things get back to good again ?
my shoulders hurt from bearing with all this. juggling the multitude of things that matter and fighting with gravity. july's been a wreck. a car-crash in a speeding sports car. a mix of nightmare and dream, 80% former and too-little-percent latter.
last night i had dinner with my mom and kat and we wandered a little in the playground suburbia of the city. gellato and shakes sweetening the moment just a little and the night spent drifting away.
hidden slippers and medical examinations often blur the lines between what is right and wrong, sinful and pure and bliss...
more bad news and the stink from the fan intensifies.
i need more sleep. things still won't make sense when i wake up, but at least i'll be able to think clearly for awhile...
coming soon : starbucks acoustic session with jason lo, disagree & pete teo review
ps : if you happen to be on a bus on the way to the city at 8am any weekday morning and see a someone sleeping with his headphones on, please do the following :
i) leave me alone
ii) don't bother trying to nick my wallet, there isn't much there that's worth the effort
iii) if you must steal something, take my phone, but leave my cd's alone
stop mentally undressing me
iv) wake me up when we get to dungun road
---
240704 1506GMT/2206KLT
in an instant
a hundred billion things and more happen at the same time. we seldom realise this and the fact that we are all living in the same moment, each moment, interconnected to each other, by each other.
her name is jemima and she's my age and her dad has been missing for almost two weeks now after a helicopter crash somewhere in the rainforests of borneo. she studies in wales and watched clueless in high school. she blogs and for the past half hour or so i've been reading her entries as if i were reading a book.
reality is surreal.
reading her older entries about exam worries, holidays with smiley-sunshiny-pictures and shopping then coming back to her most recent entries about her ordeal and how she is coping with it is riveting. i read blogs like some people read books. the reality and personal honesty of blog entries (good ones) captivate my attention and imagination like no michael chrichton book can.
each summer i come home to, i find myself feeling really grateful and thanking God for the simple beautiful things in my life. it hasn't been easy. my roads have their share of broken bridges and diversions and i sometimes contemplate giving up on the difficult things. then when i need it the most, i start to see the bigger picture and the insanity of the moment starts to make sense again.
the past few nights have not been the most pleasant for me. my emotions range from anger to fear to hopelessness, frustration and numbness. and in between there's a fair share of gratitude, love, calm and hope. we are here. troubled but never forsaken. fallen but never gone. fighting and alive. if only for an instant.
good luck
---
190704 1506GMT/2206KLT
this mess
the shit hit the fan.
things have cooled down a little. thing is, shit on fans don't come off with time. you just have to learn to get accustomed to the smell and the implications of it. and so it's been that way for the past few days. lulling myself into the escapism my internship offers each weekday.
in other news, my sister and ecuadorian dude have packed off back to our eagle's nest in london. sending them off to the airport yesterday was just a dreadful reminder that soon it would be my turn to go down that elevator again, dragging my heart down with me. summer's ended. my holiday's more or less over for now. i'm still holding on to plans for a beach paradise getaway but aside from that, my mind's just got to focus on the important stuff, remember to do all the things that need doing before getting back and not waste time on any shit.
despite the mess i've got myself into, she's been such an angel. we've been good. and the days tick by but we hold on to each one, biting into as much sweetness time together will give us. these most troubled days of my life have not managed to eclipse her light and strength.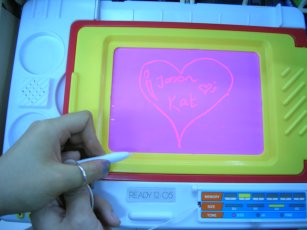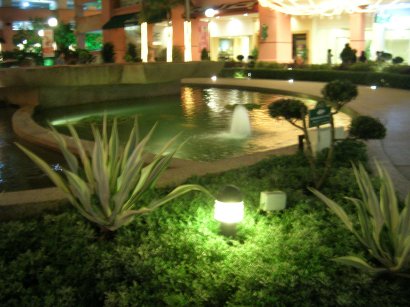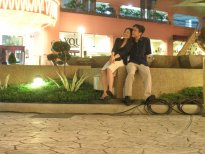 "i could go anywhere, we should go unprepared... i don't wanna go away, i feel you right now." - disagree, pooch
---
130704 1206GMT/1906KLT
storms a-brewing...
the sacred-ness of june has fizzled off. and bad days approach. in the midst of the delirium, the ghosts were never really gone, just hiding in the tapestry. we'll get through all this. but for the moment, its teeth-clenching time and breath-holding time again.
and just for the sake of keeping a record of things, Weekend things :
sunday- brats thing, school thing, dinner thing
saturday- casting thing, jap-buffet thing, kl thing.
during the week- zahid thing, hip-hop thing, meeting thing, supper sessions
i start interning tomorrow. sigh.
---
070704 1916GMT/0216KLT
perantauan scha-mantauan
it seemed like one morning i woke up and it was already july, i'm sure that's the way it's supposed to happen but after 21 years of experiencing it, the transitions between months still tend to catch me off guard.
lets see now, what do i want to record this time ? friends call up to catch up and when the subject of "what've you been up to?" pops up, my mind sometimes jams up and i suppose now that i'm composed, i can think and note it all down.
most of my time these days has been allocated to my family. dinners and outings like the other night when i (for the hell of it) drove them down half pissed to the city, for a looksee at the she-males and bottom barrel prostitutes in the back lanes (i don't know who was more excited- my ecuadorian buddy or my mom!).
then there's my kitten and her puppy. this week she's gone for a camp in kuala freaking kubu baru and left me to babysit the pup. he's an adorable fella and my family loves him but even though he's almost trained to do his poo poo and wee wee on newspapers in the kitchen, the kid needs constant attention and i'm getting sick of cleaning up after him. when kat gets back from her clinical thingy i'm not sure who'll be happier.
things have quietened down a little with my sis and ecuadorian guy in new zealand for a week and kat in kkb. but i'm still flooded with things to do- minor freelancing is easy but time consuming and deadlines tend to clot together like bad pus. the little production company we've set up is now OFFICIAL but that only means we're merely at the beginning of things. at least the euros are over and done with.
Pix of the week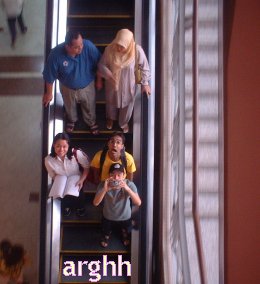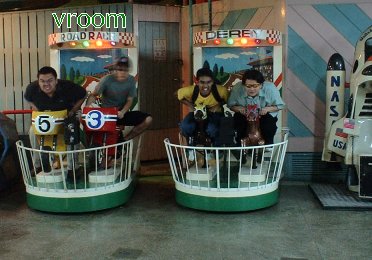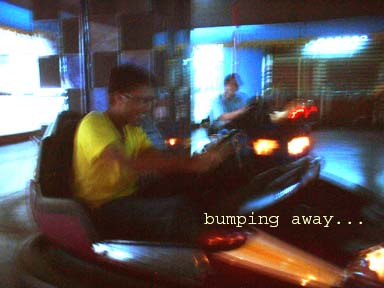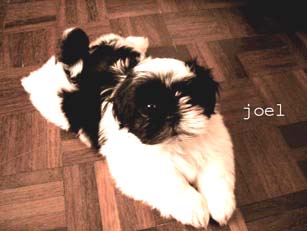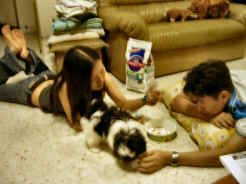 Songs i've been turning the volume dial up to in the car recently:
Blink's IMissYou, Kylie's Chocolate, Hoobastank's The Reason, TheCalling's TheseDays, Lenny's Where'reWeRunning
Gosh how i miss high speed internet downloads...
---