elections
written by Soo Do Nim

it seems to be election fever all over the world. madrid's kneejerk elections show more signs of the world changing over night. i don't think spanish voters should've been made to vote under such circumstances- with so little answers to the most important questions available.

over in the US - i've been liking what i read about presidential candidate John Kerry. he takes his time to think things through, has a solid idea on foreign policy, is for abortion rights, anti-death penalty and despite looking like he has a disproportionately long head, doesn't look like an outright fool. coff* dubya coff*

india's election is coming up as well, as indian voters are getting telephone calls from vajpayee via a recorded messaging service persuading them to vote him in again.

but the elections going on back home in Malaysia is what's really on my mind. we're on the verge of a change. months after Dr. Mahathir stepped down, only now will we see the true effect of his absence. i'm really impressed with Datuk Seri Abdullah Badawi's intentions and recent efforts in cleaning up corruption in the country. after decades of progress and modern infrasructure built on shaky foundations of dirty money and inefficiency, the next few years will be crucial to see if we can sustain the growth we've achieved in malaysia.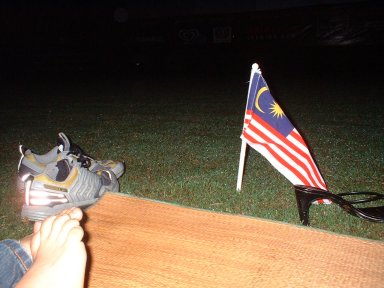 to the average malaysian, 2 questions are most likely on our minds-

is Badawi's political stance just a front ?
i personally believe that he is sincere in his intentions, judging from his practice of the things he preaches, ie- not launching personal attacks on any opposition politicians throughout this election period, putting forward a new line up of younger politicians, thus planting new fresher seeds in the governmental process, arranging recent inquiries into certain corrupt powerful politicians and many small changes that have been allowed to take place. for instance, flipping through the star online, i can see more articles criticising goverment policies published. smaller things like the permits for international rock/pop acts to perform on malaysian soil could be an indicator of a more liberal malaysia ?

Furthermore let's face it- he's the only person willing to take such a stance to acknowledge the shit that's going through our political and bureaucratic system.


barisan national, the leading party will most likely win anyway- why bother with this election ?

the crucial factor in this elections is not whether or not Barisan wins, but if Badawi wins. a win for Barisan is guaranteed- by majority number of parliamentary seats- but a win for Badawi is less simple. a substancial number of new candidates handpicked by Badawi to begin a change in government policies must make it through the elections. without a big win and massive ground roots support from the people, Badawi and his righteous plans will be politically vulnerable to attack from within Barisan and its less righteous senior members.

its true that voters in states like selangor, johor and penang need not worry about their states falling into opposition hands, but then again, the scale of barisan victories in these states are crucial as a signal of confidence in Badawi and his new government.

we need this change. we need outright corrupt practices within our police force, parliament and courtrooms to end. it may be true that corruption exists in every government, but the level of its reach in the malaysian way of life is just disgusting. it looks like in Badawi there's a shot for a better way. we still have our democracy- use it - have your say-
what better place than here ?
what better time than now ?


(sorry... just HAD to add that in.)



2004